Fortis - Technical Manual
Chapter 3.

Fortisᴾᴴ - the Post-hole Fortis
The Fortis accelerometer is also available in borehole-specific packaging. This variant is called the Fortis Post-hole, or FortisPH. The components and electronics inside the sensor are identical to the surface module: the only difference is in the external casing and the connector, which is water-proof to 100 Bar (equivalent to 10 MPa or 1500 psi). See section 8.2 for pin-out details.
Note: The FortisPH is not fitted with the bubble level, adjustable feet, engraved switch and pointers.
The FortisPH is 125 mm in diameter and 78 mm tall, excluding the connector. An engraved arrow on the top of the casing indicates the direction of sensitivity of the North/South component, so the instrument can be aligned correctly.
Four tapped holes in the lid, situated around the connector, allow the attachment of a lifting bail. The bail is cranked to allow easy access to the connector. When fitted, the top of the bail is around 290 mm above the bottom of the instrument.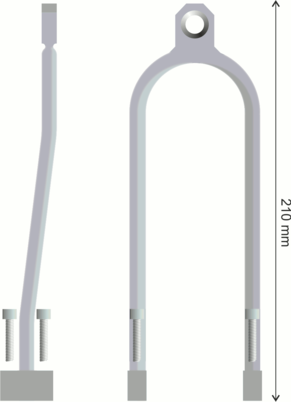 Like the Fortis, the centring function allows installation of the accelerometer at up to around 10 degrees of inclination from the vertical axis. When the FortisPH is powered-up, a centring command is executed automatically in order to null any offset. The centring command can also sent via software from the Minimus' web-page, using the control in the Setup tab ("Centre Mass" button).
The physical switch used in the Fortis to set the gain is not accessible in the FortisPH. The gain is set at ±4 g by default but it is still possible to change the gain from the Minimus digitiser web page (see section 4.3.2 for details).