Chapter 1.

Introduction
Instruments with integrated EAMs include a USB memory device which is connected via a relay either to the EAM or to an external USB host, such as a laptop or PC. The relay is driven by the power lines from the external USB host.
When no external host is connected, the memory is available to the EAM as an alternative recording destination. It can also be mounted from the command line and used for arbitrary data storage.
When an external host is connected, the power from the host activates the relay and the memory device is electrically disconnected from the EAM and connected to the external host. The device can be used even if the instrument containing the integrated EAM is not powered, which is a useful way of testing the integrity of the USB memory device.
This document describes how to open the instrument, replace the USB memory device and reassemble the instrument. This may be necessary if the memory device is to be replaced with a unit with more capacity or in the event of a failure of the device.
Important Notice
Seismometers and accelerometers are contain extremely sensitive mechanical components. Instruments with mass-locks must have the locks activated before they are opened or moved at all. Only open the casing of an instrument in a clean environment and take precautions to prevent any ingress of dust into the body of the instrument.
Important Notice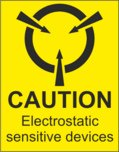 The circuit boards contained within the instrument include components which can be damaged by electrostatic discharge. Always work on a properly grounded dissipative surface and wear a suitable grounded wristband. Ground yourself by touching an earthed conductor before handling any of the circuit boards.