MAN-SWA-0001 Issue M - Scream User's Guide
Section Index:
13.1  Log files
13.2  E‑mail notification
Chapter 13. 

Logging and notification
13.1 

Log files
As Scream! receives data blocks, it checks that each one is valid and self-consistent. Any errors it detects are highlighted in the ViewInfo window (see section 8.4). They can also be logged to disk.
To specify this file, or to change which types of error are logged, choose File → Setup… from the main menu and move to the Event Log tab. Tick Enable Event log to begin.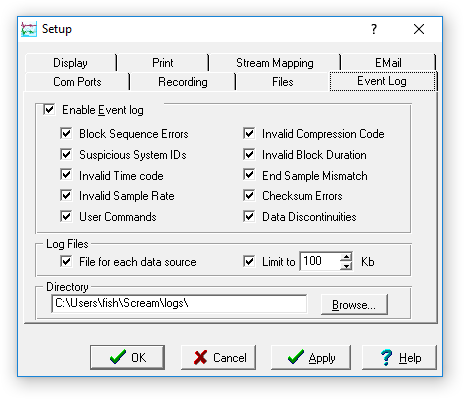 The top section of this window lets you select the types of event to be logged:
Block Sequence Errors : A block with an unexpected block number. Blocks received over a data link are marked with a block number, which increases by one for each new block. If Scream! receives a block whose number is out of sequence, it generates this error.
Suspicious System IDs : A block coming from an instrument which is reporting a System ID of zero (i.e. blank). Although the block itself is valid, there may be a problem with the device from which it came.
Invalid Time Code : A block with an out-of-range time-stamp (i.e. greater than 23:59:59).
User Commands : A command initiated by the user which affects the operation of the instrument, e.g. locking, unlocking, centring, calibration, and configuration detection.
Invalid Compression Code : A block with a compression code other than 1, 2, or 4.
Invalid Block Duration : A block which is not a valid number of seconds long, or fraction thereof for higher sample rates. For up to 250sps, GCF blocks must contain a whole number of seconds of data, calculated as number‑of‑samples × sample‑rate. For over 250sps, specific fractions of seconds are allowed. See the online GCF specification for more details.
End Sample Mismatch : A block whose final sample (RIC or reverse integrating constant) does not equal the first sample plus all the differences within the block.
Checksum Errors : A block whose checksum does not match the sum of all the bytes in the block.
Data Discontinuities : Any detected gap in a stream, along with the reason, if known. This includes reboots, clock synchronisations, and intentional gaps in triggered channels, as well as any data lost owing to slow or poor-quality communications links. Status streams hold no duration information and are not checked.
By default, log files are created in the user's directory (Local Settings under Windows), under different names according to the source of the data:
local serial inputs are logged by port, in files named comportx.log ,

network servers are logged by IP address, in files named aa_bb_cc_dd-pp.log (for the IP address aa_bb_cc_dd and port pp), and

file and SCSI disk replays are logged in the file replay.log.
Any events which do not relate to a particular stream are logged in the file scream.log. If you clear the File for each data source check-box, all events are logged to this file.
Log files can become quite large and it is usual to limit their size. To do this, tick Limit to… and set a value in the box. When a log file xxx.log reaches this size, it will be renamed xxx.old, and a new, empty xxx.log file will be created. If the file xxx.old already exists, it is overwritten.
Finally, enter the name of a directory in the text box, or click Browse… to find a suitable directory for saving the log file(s). See the notes about choice of a suitable directory in section 3.3.
13.2 

E-mail notification
You can also instruct Scream! to send e-mail to warn the operator when particular events happen. To set this up, choose File → Setup… from the main menu and move to the Email Options tab.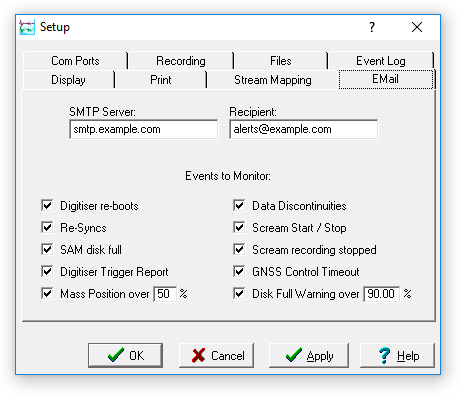 To be able to use e-mail, you will need access to a mail (SMTP) server which will accept messages from the address Scream_SMTP_client@your-hostname. Fill in the IP address or hostname of this server in the SMTP Server box. The Recipient box should contain the e-mail address to which you want the mail sent.
The events you can monitor are:
Digitiser re-boots : Scream! can recognise the boot-up status messages of a Güralp digitiser or digital instrument. These are normal after a power cycle or when a new configuration is uploaded to the digitiser. After a re-boot, you should receive Re-Sync and Data Discontinuity messages as well.

Re-Syncs : Whenever the digitiser's internal clock is resynchronized with a GNSS. These are normal after a re-boot, or an extended period of GNSS outage.

Data Discontinuities : Any detected gap in a stream, along with the reason, if known. This includes reboots, clock syncs, and intentional gaps in triggered channels, as well as data lost owing to slow or poor-quality communications links. You should check the log files (see above) to help you determine the cause.

SAM disk full : SAM units send status messages when they stop recording data because their disk is full. SAM units in circular-buffer mode carry on recording, and do not send these messages. (This does not work with DCMs, EAMs or NAMs: only SAMs.)

Scream Start / Stop : Generated by Scream! when it starts, and when it shuts down cleanly. If a computer suffers a sudden loss of power or is not shut down properly, Scream will not be able to respond in time so you will not see a Scream Stop message.

Scream recording stopped : Whenever recording fails for a particular stream, because of a write error on the local disk. Check that the disk is not full, and that you have write access to the relevant directories. If you have Auto Record – Enable active and have set recording to GCF format, replaying a previously-recorded GCF file will cause Scream! to attempt to record to the same file, causing this error. The file will be undamaged.

GNSS Control Timeout : Generated if Scream! has previously received satisfactory GNSS synchronization messages, but has not received any within the last 12 hours. Scream! will not send another GNSS Control Timeout message until GNSS operation resumes, at which point it will restart the 12-hour timer.

Digitiser Trigger Report : Whenever the digitiser triggers. Scream! determines this from lines in status messages, and not from the data streams. Because of this, there may be a slight delay between a trigger and this message. The contents of the status lines are repeated in the message.

Mass Positions : Generated if an instrument reports a mass position above the value you specify in the associated text-box, expressed as a percentage of the maximum possible value. Most Güralp instruments can operate satisfactorily with mass positions up to 50% of their travel; some can operate with significantly higher mass positions. A follow-up email will be generated when the mass position returns below the set threshold.

Disk Full Warning : Generated if the amount of data on the hard disk exceeds the specified percentage of the size of the disk.